NEW Continuous Provision in Years 1 – 6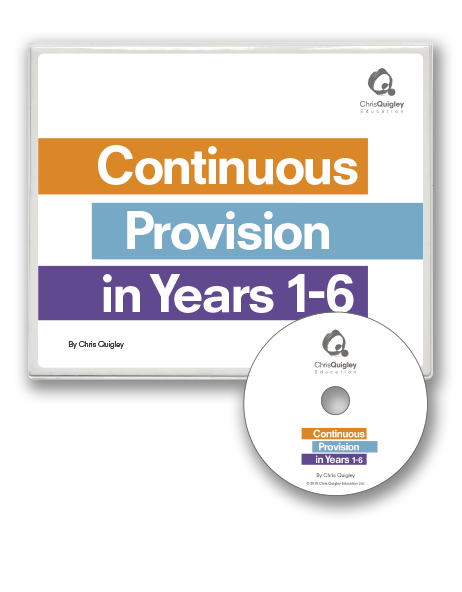 ---
First published February 2017 under the title 'Learning without Lessons'.
"Depth? I can't even fit in the Breadth!"
Does this sound familiar?
This is one of the biggest challenges of the National Curriculum: Ensuring depth when there's a such a huge amount of breadth to get through.
Don't worry. There is a solution:
CONTINUOUS PROVISION IN YEARS 1 – 6 – conscious connections, continuous provision and longitudinal learning: essential strategies for a mastery curriculum
This fantastic new creation from Chris Quigley helps Teachers to design a curriculum for depth and it's all based on a simple principle:
NOT EVERYTHING IS BEST LEARNED THROUGH LESSONS. 
We're not trying to get rid of lessons, just exploring aspects that might be better learned in other ways.
Discover hundreds of ideas to develop:
•continuous provision in the primary classroom
•cross curricular and intra-curricular connections that allow repetition and gradual deepening of understanding
• the revolutionary and exciting idea of LONGITUDINAL LEARNING TOPICS
Subject by subject from mathematics and science through to art, computing, DT, music, geography and history Chris provides practical ideas to instantly make the curriculum more manageable and more meaningful, and at the same time promoting depth.
Be prepared to be wowed by a completely different take on curriculum design.
Key features:
• for Key Stages 1 and 2
• linked to curriculum objectives and standards
• over 400 pages containing hundreds of practical examples
• CD with all the examples for teachers to put the content on their own device
• continuous provision examples
• cross curricular and intra-curricular examples
• longitudinal learning topic examples with in built depth progression
• the usual clarity and ease of use you'd expect from Chris
• A special TEACHING AND LEARNING POLICY to help all staff really understand the difference between learning and lessons.
" A learning revolution."
"A chance to make the curriculum both manageable and magnificent."
"Recognising the need for learning to be advanced and not 'achieved'."
"We have completely changed our Teaching & Learning Policy as a result of this."
Click here to view the sample pages
For orders within the UK, a standard 4-5 working day postage and packaging is £3.90 per order. We can send publications by next working day delivery if requested for £15.00 per order, if ordered by 2pm.
For orders outside the UK, postage and packaging is chargeable, and the cost will be confirmed following an enquiry being submitted.
Please note: advice on how to adapt our resources for your school is chargeable. Please  click here to make a consultancy enquiry
*Applies to products currently in stock.
---
Alternative contact/buying methods:
Email: info@chrisquigley.co.uk
Postal Address: Chris Quigley Education Sandy View Buildings Front Street Burnopfield Newcastle upon Tyne NE16 6PU
---