More Creative Themes for Learning – Key Stages 1 & 2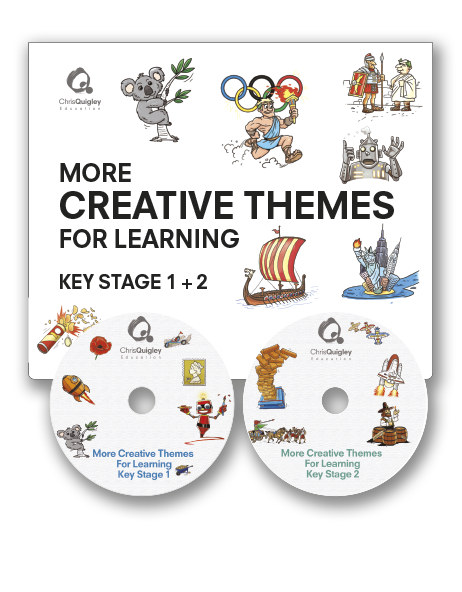 ---
Be Inspired – all over again
Go on an Australian Adventure, investigate history's Great and Ghastly Events, Lift the Teacher or discover the Land of the Free!
More Creative Themes for Learning KS1 and KS2 provide 25 inspiring and exciting cross-curricular themes for teaching the entire geography, history and design technology curriculum. Each theme is linked to the Chris Quigley Essentials Curriculum at the appropriate milestone.
All themes come with some fantastic ideas for art, writing and using maths. Teacher notes and skills progression information accompany each theme. A CD accompanies each pack, which provides the images and theme text so you can customise and shape to fit your school.
Key Stage 1 themes: 
Lift the Teacher and other marvellous mechanisms
Post a Pringle and other megastructures
From Field to Fork
Extreme Weather
Amazing Places and Spaces in the UK
Australian Adventure
Cracking Ideas
Great and Ghastly Events
Let's Remember
Key Stage 2 themes: 
Balloon Blaster and other mechanisms challenges
Shake Things Up and other structures challenges
Art Bot and other electronics challenges
Make a Banana Keyboard and other control challenges
Land of the Free
Eurovision
Land of Hope and Glory
Earthquakes, Zones and Volcanoes
Buildings
Rich and Poor
Language
The Arts
Transport and Trade
Conflict
Achievements and Legacies
Beliefs
Please note that this not a scheme of work, it contains ideas for teachers to deliver an exciting and engaging curriculum to children.
Click here to view sample pages for Key Stage 1
Click here to view sample pages for Key Stage 2
Want to book some training for your school around this product?  The following courses link to this product:
For orders within the UK, a standard 4-5 working day postage and packaging is £3.90 per order. We can send publications by next working day delivery if requested for £15.00 per order, if ordered by 2pm.
For orders outside the UK, postage and packaging is chargeable, and the cost will be confirmed following an enquiry being submitted.
*Applies to products currently in stock.
---
Alternative contact/buying methods:
Email: info@chrisquigley.co.uk
Postal Address: Chris Quigley Education Sandy View Buildings Front Street Burnopfield Newcastle upon Tyne NE16 6PU
---