Curriculum Companion: Subject-Specific Writing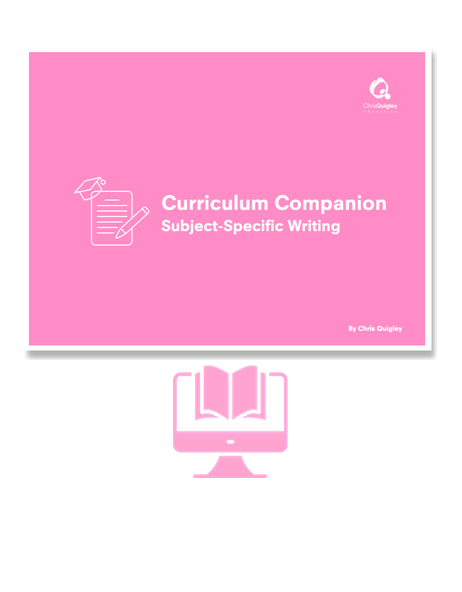 ---
AVAILABLE FOR PRE-ORDER NOW, Delivery estimate: September 2022
This Curriculum Companion for Subject-Specific Writing aims to help students:
Use sophisticated, academic and subject-specific vocabulary in their writing
Develop subject-specific literacy, for example geographical literacy, so as to deepen their knowledge

 

Learn curriculum subjects by writing about them (a process known as writing to learn)
Develop fully-formed, coherent sequences of thoughts, beginning with simple topic sentences and progressing to multi-paragraph essays
Use correct grammar to give clarity to their writing
Consider the purposes and audiences for their writing.
In doing so, the hope is that primary-age students will be ready for the academic demands of the secondary curriculum.
In addition, the Companion aims to help teachers:
Plan purposeful writing activities that reflect the powerful knowledge they are teaching their students
Scaffold the writing process in a structured and systematic manner
Assess, formatively students' learning
Follow a clear whole-school model for subject-specific writing.
CONTAINS HUNDREDS OF EXAMPLES OF STUDENTS WRITING
ACTIVITIES FOR EARLY THROUGH TO ADVANCED WRITERS
THE PRODUCT INCLUDES A FILE AND 1 YEAR SUBSCRIPTION TO THE ONLINE VERSION. (re-subscription will apply on expiry)
Sample Pages
---
Alternative contact/buying methods:
Email: info@chrisquigley.co.uk
Postal Address: Chris Quigley Education Sandy View Buildings Front Street Burnopfield Newcastle upon Tyne NE16 6PU
---