Leadership Lenses – School Evaluation Framework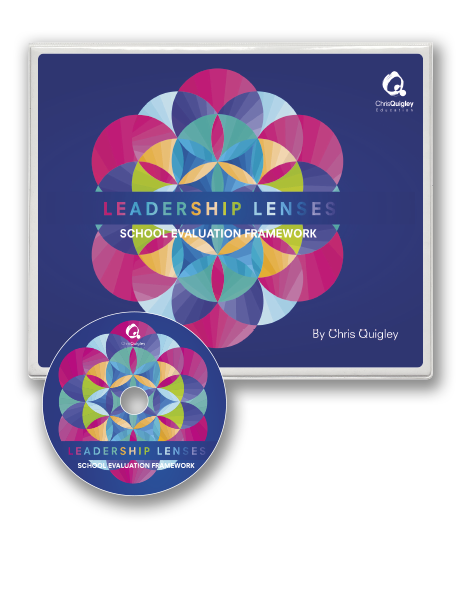 ---
Interested in a completely different way to evaluate your school?
No Ofsted grades
Diagnostic
Identifies strengths
Peer review
Leadership Lenses is a brand new way to evaluate and improve your school based on two main questions:
How good are pupils' outcomes?
How come?
Outcomes 
Use simple tables to help summarise pupils' outcomes in
Academic development
Personal development
How comes? 
Once leaders know the outcomes, they ask, 'How come?' To do this we have created eight lenses that provide the focus for explaining why outcomes are as they are.
Culture, Climate and Clarity, People, Learning, Curriculum, Finance, Improvement, Connections and Welfare.
Magic Quadrants®
Magic Quadrants® is a unique system developed by Chris to help schools to move beyond Ofsted grades when evaluating the effectiveness of school provision.
The quadrants are based on three factors:
Clarity: how clear is everyone?
Expertise: How skilled?
Embeddedness: How long?
Magic Quadrants® are produced by rating each of the indicators. Doing this produces quadrant graphs that show leaders where their strengths are and where they may need to improve.
Magic Quadrants® help schools to identify action. If a school has high clarity and high expertise then they are in a prime position to help others. If a school has high expertise and low clarity, leaders know what to do to improve: increase clarity.
Leadership Lenses Website
• Drag and drop evidence
• Simple, easy interface
• Visual
• Helps you to clearly show strengths and limitations
• Helps you to improve your school.
File, CD & Website
Price: £180 per school 
Annual re-subscription fee to Leadership Lenses website of £100 +VAT applies.
Includes Framework and Magic Quadrants website.
Click here to view more information about Leadership Lenses.
Click here to view the Leadership Lenses User Guide Video
Many thanks to the Elements Cluster, Coventry for purchasing our Leadership Lenses framework in order to evaluate and improve school practice.
Leadership Lenses can be used as a support tool amongst school clusters in order to share strengths and weaknesses.
"'Common sense' as always! We really like the structure of this approach – easy to follow, clear and concise, yet thorough and probing. The visual representation of the school's effectiveness through the 'Magic Quadrants' is jargon free, making it accessible to all. Following the suggested review activities and sources of information identifies where, why and what improvements could be made to achieve the best outcomes for children, both academic and personal."
Jill Litchfield, Bournehall Primary School, Hertfordshire
---
Alternative contact/buying methods:
Email: info@chrisquigley.co.uk
Postal Address: Chris Quigley Education Sandy View Buildings Front Street Burnopfield Newcastle upon Tyne NE16 6PU
---