How long do you spend preparing for inspection?
One of the most welcome recent announcements from Ofsted has been:
Do not spend time preparing for inspection.
If you want to watch a video where Mike Sheridan from Ofsted is talking about this, click here: https://www.youtube.com/watch?v=mYCrUIv5Ps0
Great schools try to make their school great for pupils not for Ofsted. Moreover, Ofsted do not require schools to think about their effectiveness in terms of its Inspection Handbook.  Its own handbook tell us:
Ofsted does not require self-evaluation to be provided in a specific format. Any assessment that is provided should be part of the school's business processes and not generated solely for inspection purposes.
This is, of course, excellent news but there is a strong legacy of seeing school improvement as moving through the Ofsted grading system of 'not good' through to 'good' and then 'outstanding', whether the handbook is used or not.
The whole notion of grading of schools needs to be be debated.
The purpose of review should be solely to learn about the school's effectiveness so that it may either learn how to improve or share its expertise with others.  Reviews that seek to judge and label a school don't really help us to improve them; judgements usually focus on the label rather than on identifying a coherent plan for strategic improvement.
Grading systems follow a flawed principle: That 'not good' to 'great' is a continuum with 'good' lying somewhere in the middle: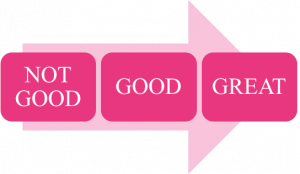 This creates three main problems:
Good is a confusing word: it may mean anything from 'displaying many desirable qualities' to 'adequate'.
Great is a confusing word: it means 'a mighty force' but that force may be positive or destructive.
There are actually three dimensions to school improvement:

Clarity
Expertise
Embedded-ness
Would you like a refreshing alternative to self-evaluation that focuses on making your school the best it can be rather than 'preparing' for inspection?
We have come up with an idea that uses the three dimensions of school effectiveness and turned it into a review framework called Leadership Lenses.  If we were to plot two of the three elements on a quadrant graph, clarity and expertise, we could start to see school effectiveness in a very different way:
We have called this way of plotting school effectiveness MAGIC QUADRANTS (TM)  it helps leaders to understand which quadrant they lie in and therefore which elements need to be acted upon.  For example, A school may have high clarity but low expertise in a particular area.  That would mean they need to build expertise.  If the third dimension, embedded-ness is then considered, it would tell leaders if the situation was new or long standing.  This helps to prioritise actions.
Outcomes and 'how-comes'
Once a school is fully aware of its outcomes, it needs to explore the how-comes.  We call the exploration of these outcomes Leadership Lenses.  We have devised eight lenses for leaders to look through so that they might discover why their outcomes are as they are.
Here's an example of one of our leadership lenses, the Culture, climate and clarity lens:
A: culture: this focuses on how all relevant people contribute to, understand and champion the values of the school.
Evaluate how well all relevant people[1]:
Contribute to the creation or refinement, and the articulation of the culture which is centred on ambition for the highest possible outcomes for pupils in their academic and personal development
Champion, defend and secure through their day-to day work and at every opportunity, the culture of the school
Promote and secure, in all its forms, equality for all pupils and staff.
B: climate: this focuses on how all relevant people contribute to and secure a positive and productive climate for learning.
Evaluate how well all relevant people:
Create a positive, encouraging climate for learning in which pupils feel respected, valued and safe
Support and encourage staff, treat them as professionals so that they feel motivated, optimistic and enthusiastic about their work
Encourage debate, exploration, experimentation and innovation so that staff work together to discover effectiveness in their setting.
C: Clarity: this is about clear policies, statutory and beyond, that make it clear to all involved what is expected and why.
Evaluate how well all relevant people:
Create, communicate and explain unambiguous policies, (statutory and non-statutory) so that all concerned have the necessary clarity and understanding to implement them
Ensure the implementation of policies
Evaluate the effectiveness of policies.
[1] Relevant people may include Leaders, governors (or similar), staff, parents and pupils.
and here's an example of the Magic Quadrant descriptors for one of the elements:
If you would like to find out more about a refreshing and rigorous change to your self or peer review framework, please come along to one of our Leadership Lenses Masterclasses.
How 'designed' is your curriculum?
Continuous Provision in Years 1 to 6
Do your pupils give up easily?